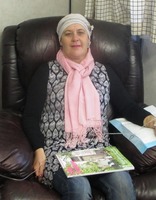 You could call me fortunate or unfortunate
I like to call myself fortunate-as I have always been a supporter of the Terrier Racing crew and in 2011 I organised a table for their Mystery Brunch. We had a lovely lunch and a few wines and a lady (Dianne Saunders was her name-so I found out later) stood up to speak. I didn't know her and missed the start of her speech as I wasn't listening .. then I heard her say something  about how Breast cancer had changed her life, and who would have thought she would get it. I sat up and took notice and she said that all women should be registered for breast screening. The girls on our table made a decision that we would all make sure we joined Breast Screening Aotearoa.
That was held September 2011. I had my mammogram in the following December  and suspicion  arose for me 7 days after the Mammogram as I was recalled to an appointment in Hawkes bay early January 2012 and that was when crisis hit. I was fortunate to be fast tracked by our local surgeon Mr Burton who when I went to see him, insisted that I go and collect my Terrier Racing Pack from the oncology ward before I went home.
Collecting the pack was the realisation for me that my breast cancer was confirmed and real and I found it very hard to actually carry the satchel out of the hospital- just in case I came across someone I knew and had to make conversation!
WOW I had always been aware of the Terrier Race Against Time cause but didn't realise where the money went.  The satchel was full of valuable information and books for me and my family to browse through, petrol vouchers  and other vouchers for me to use at loads of different places in Gisborne. I used my vouchers at Pink Pilates – a movement that is nationally promoted throughout New Zealand. But I could have used the vouchers for things like firewood, health products, beauty therapy , book shop, chemist and many many more options.
I used the satchel for storing all the information and treasures that I gathered through my journey.
Once I started treatment I enjoyed the comfort of the laziboy chairs also donated by the Terrier Racing Crew and with the exceptional support from our Gisborne Oncology unit my treatment was made a lot easier.
I now reflect on 2012 and have Dianne Saunders to thank for saving my life.
Again this year I have organised a table of family and friends and we will all continue to support this cause. After all the facts state that 1 in 8 ladies will be affected by Breast Cancer sometime in their lives. In 2011 there were 2 of us from that fundraiser who were diagnosed with different types of Breast cancer.
If I can achieve one thing by telling my story today it would be to make sure that everyone in St Truants school has a mammogram - they do save lives !! 
It's all history for me now but I do believe that:
 "it's not what happens to you but your attitude to it that counts!"