In the Media
2022
2020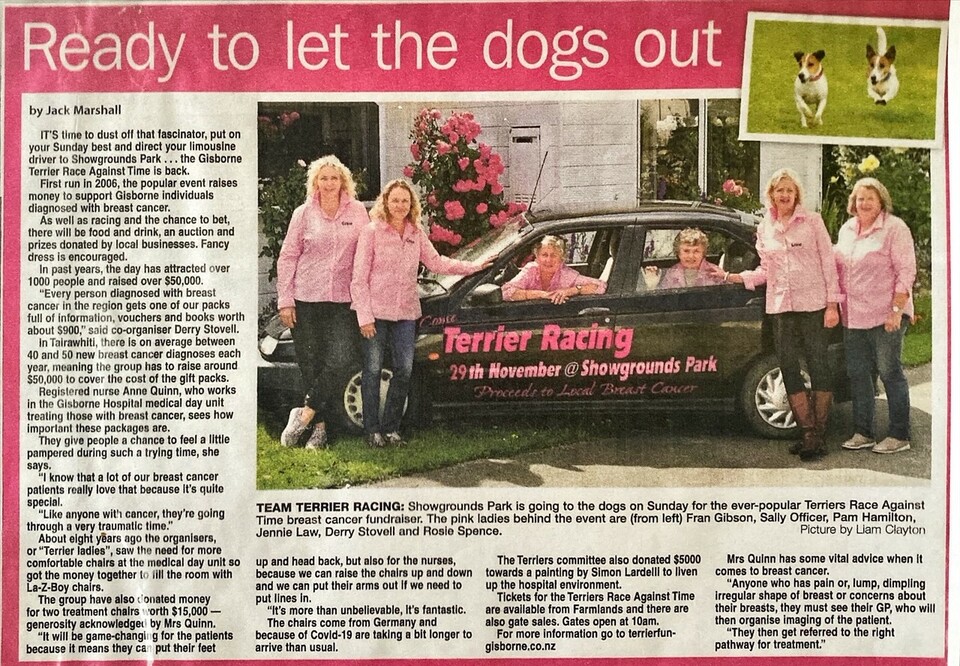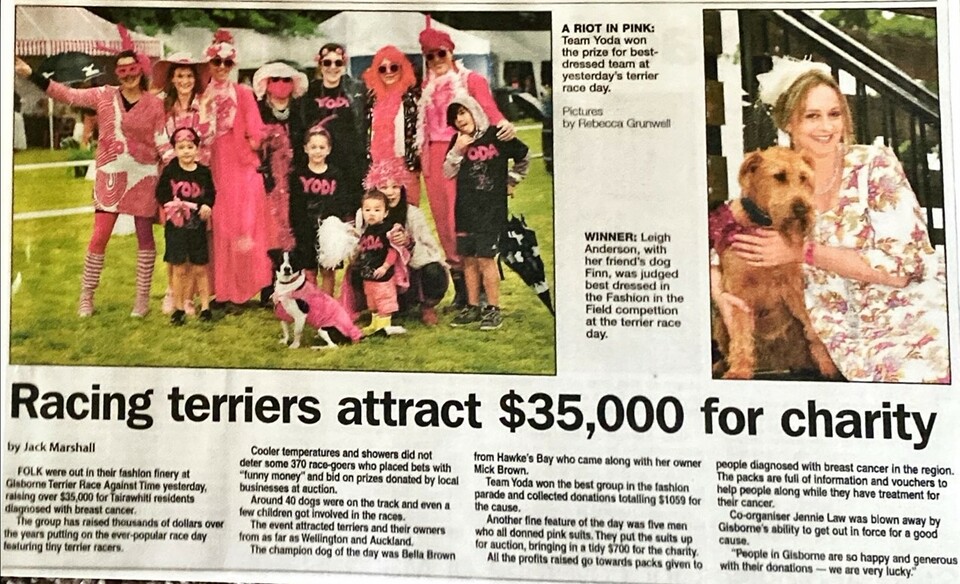 2019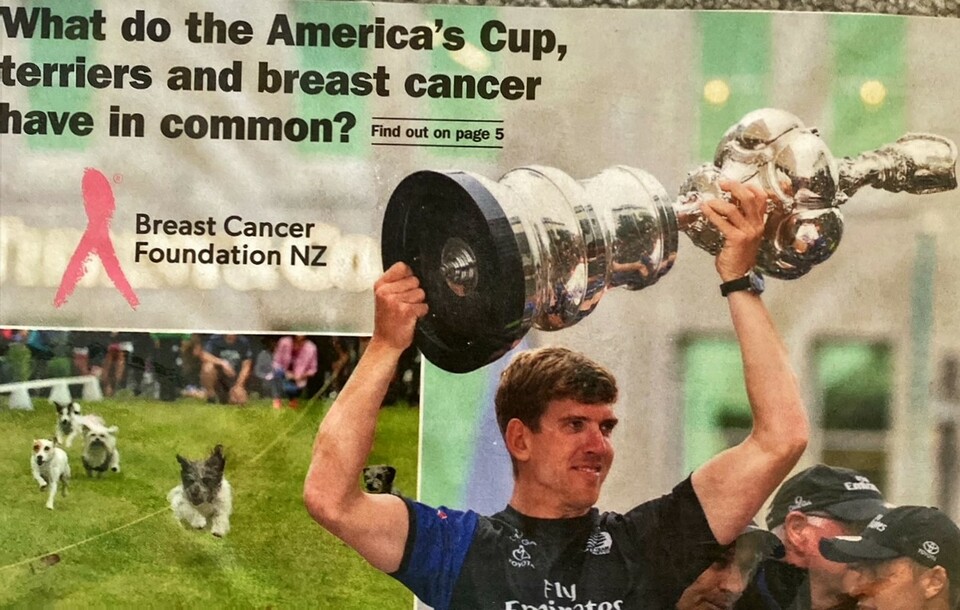 2018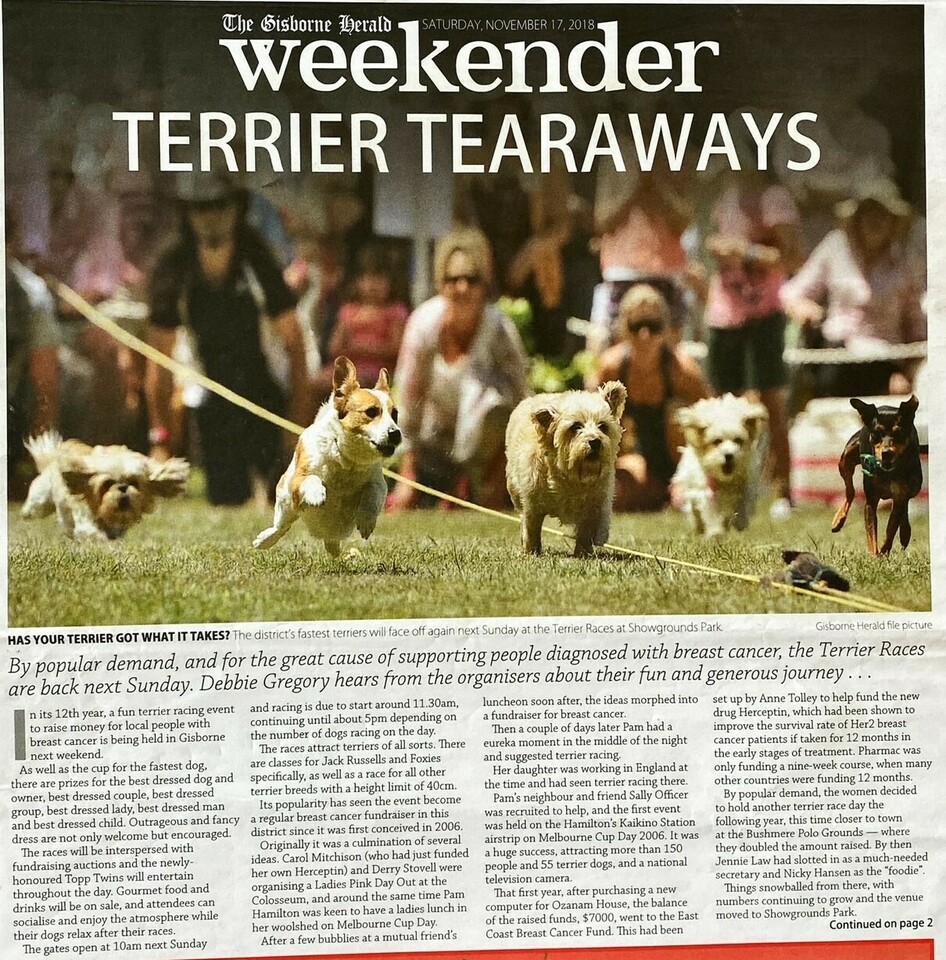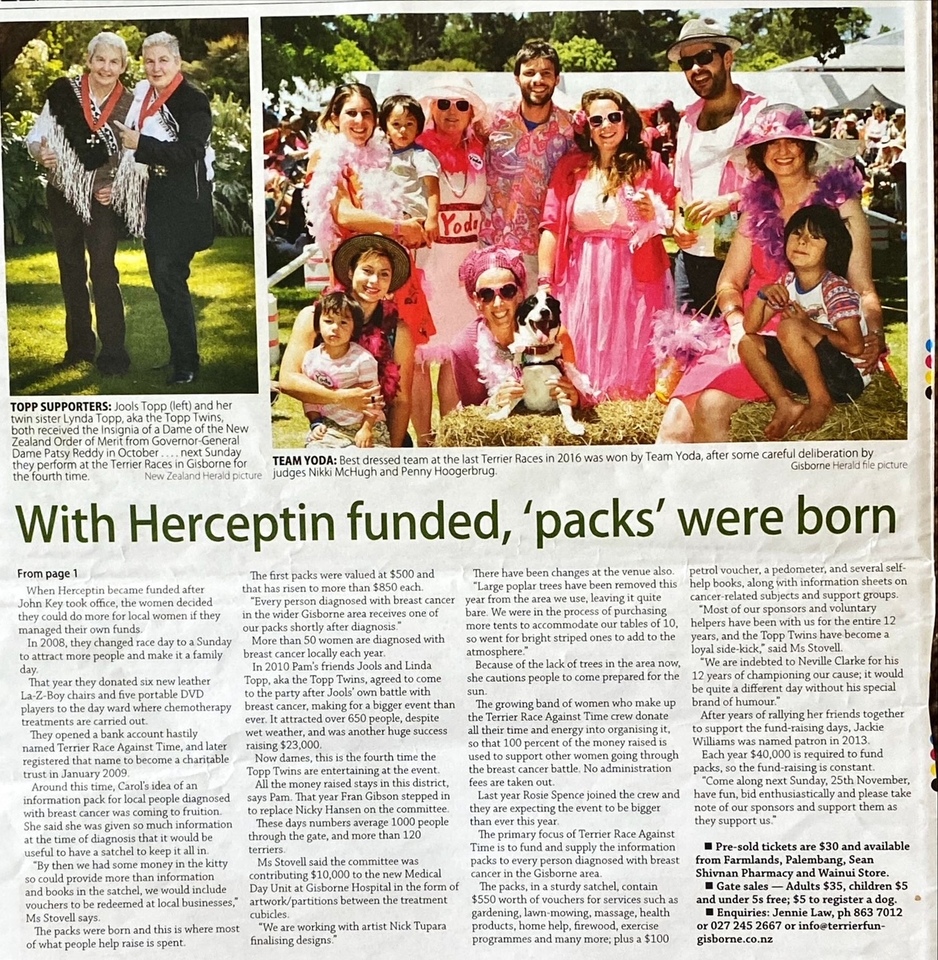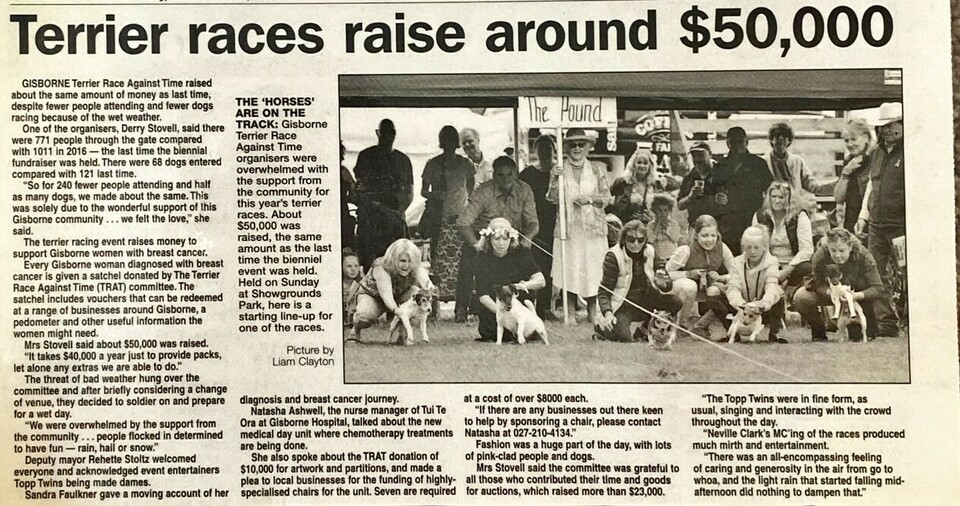 2016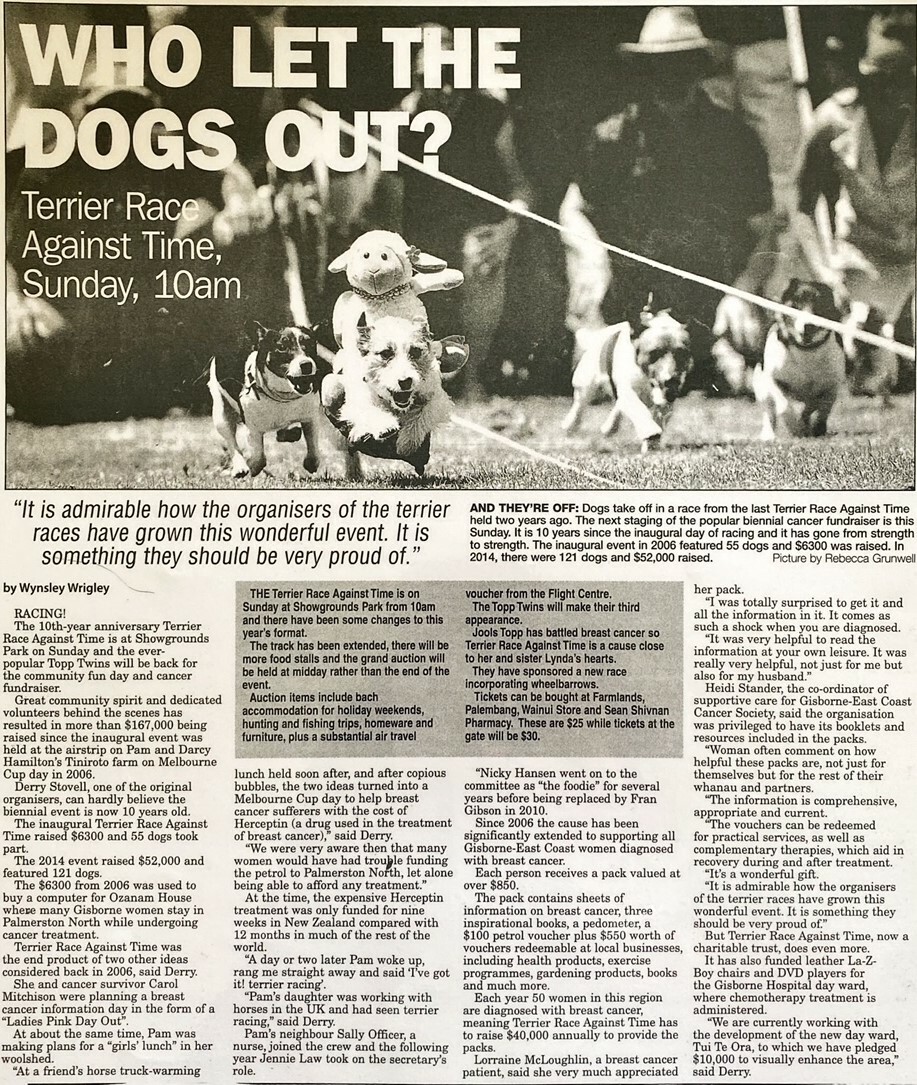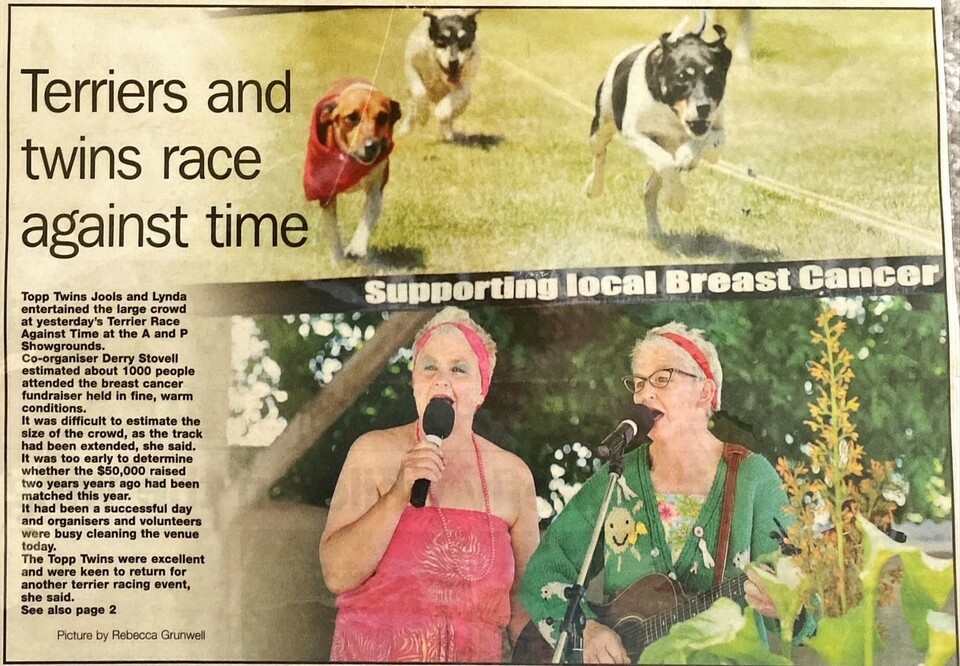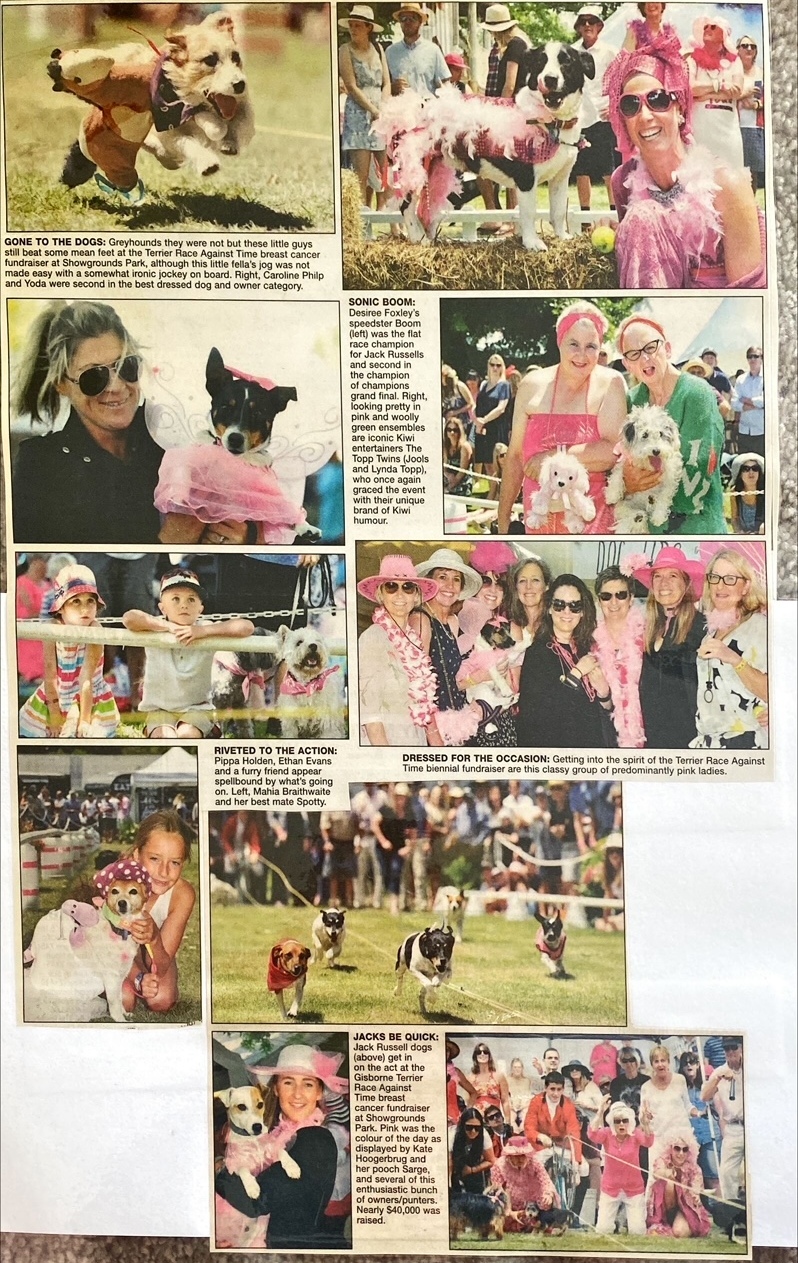 2014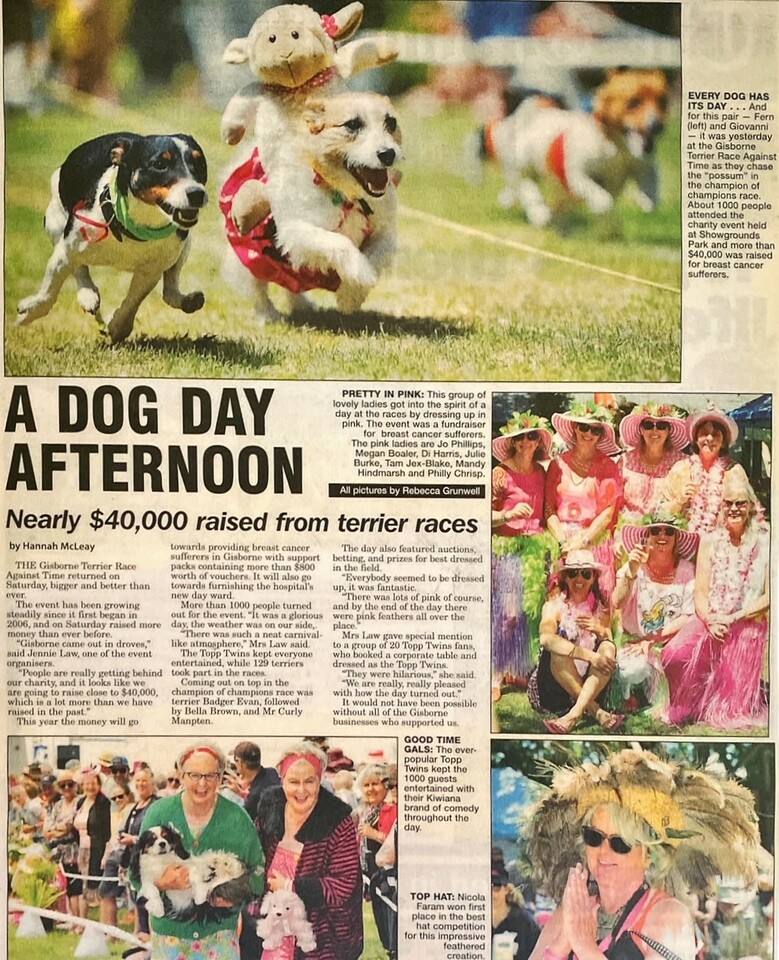 Video by Gisborne Herald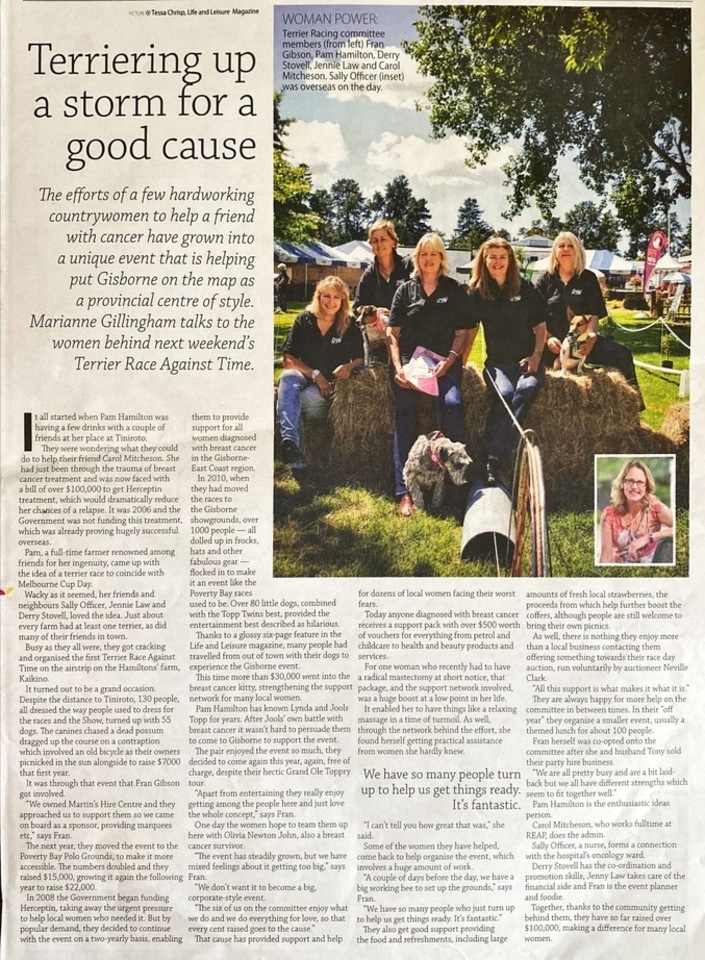 2013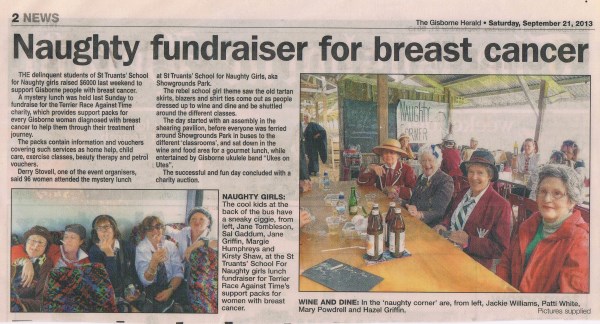 2012
LIFE AND LEISURE MAGAZINE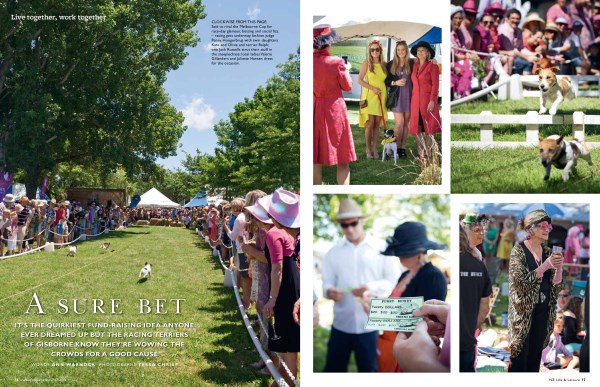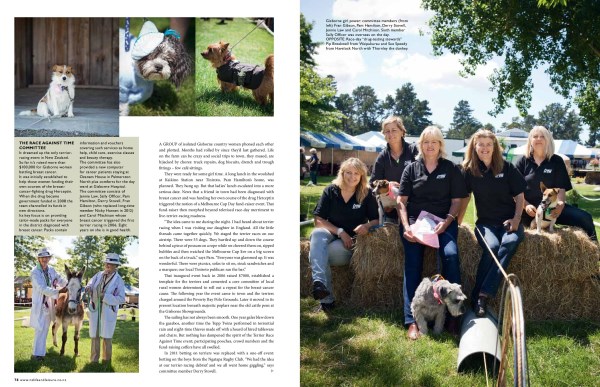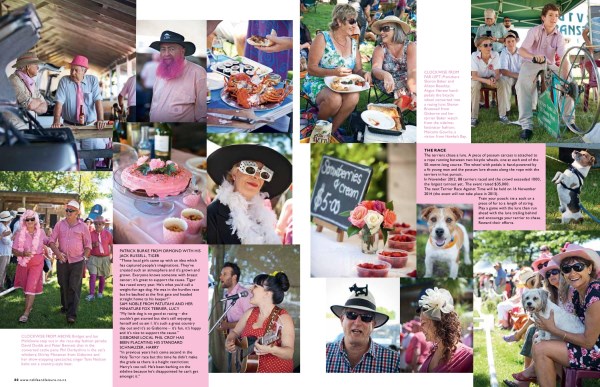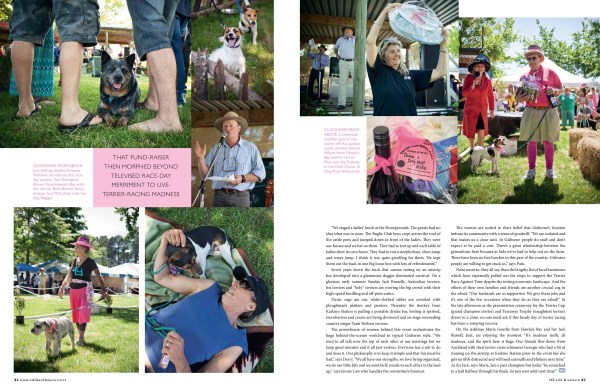 2011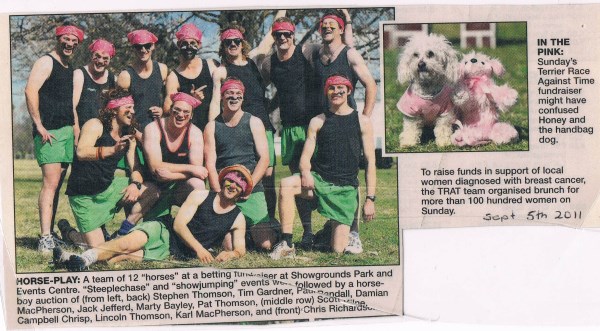 2010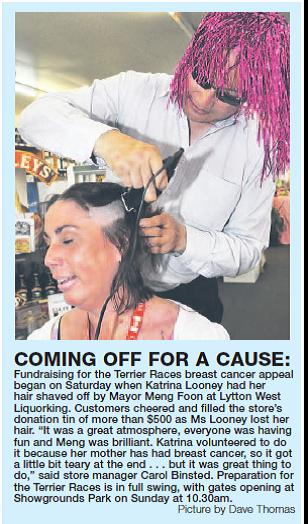 15th November 2010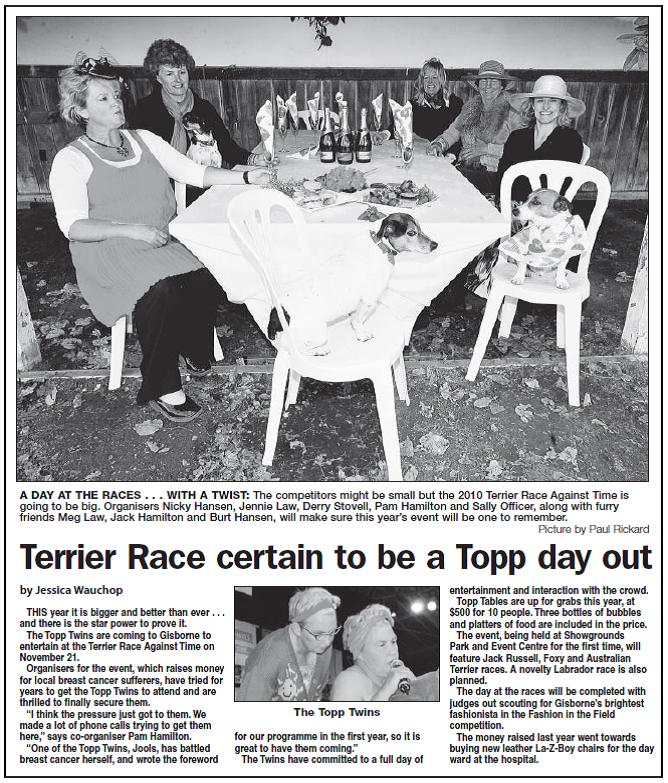 18th September 2010
 Media 2008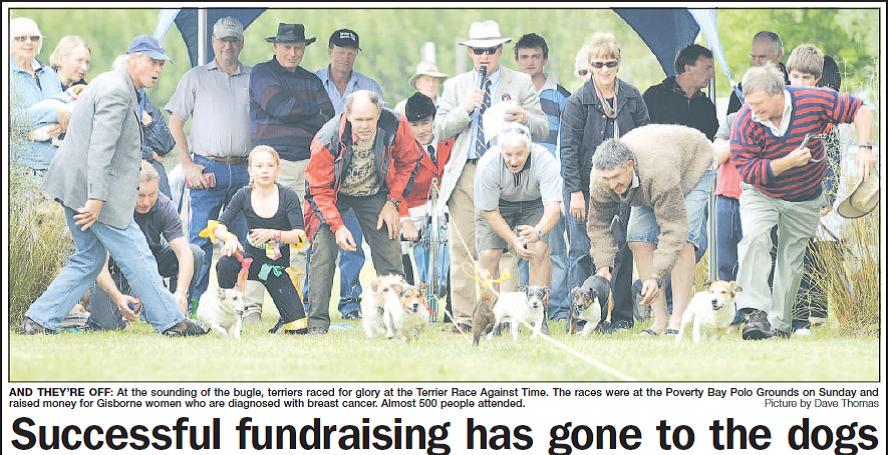 by Jessica Wauchop
Terriers take your marks, get set, go!
Thousands of dollars was raised for Gisborne breast cancer sufferers yesterday at the Terrier Race Against Time.Almost 70 dogs and 500 people gathered at the Poverty Bay Polo Grounds
for a day of hilarity as terriers raced, fought, ran rogue through the crowd and sniffed out some new friends. From Jack Russell terriers dressed like Willie Nelson to fox terriers called "the V8s
of the terrier racing world", the crowd had plenty to cheer on in name of the worthy cause.While some terriers had their eye on the prize and others needed to be chased down the strip by their
owners, all had a marvellous time.  Event organisers were thrilled with the turnout, which was up from 290 last year. "It has just been wonderful," said co-organiser Sally Officer."We have had
so many wonderful, positive comments and the new format has worked really well."We had a huge increase on people from last year and considering what the weather was like on Saturday we
are so grateful. "It is just such an entertaining day. We want of course to raise money for breast cancer but to give it a theme and have a day like this, offers something a bit different and for the
whole family."All the money raised at the event stays in the district and goes towards building packs for those diagnosed with breast cancer."The money stays locally and doesn't go anywhere
else," said Mrs Officer. "About 50 Gisborne women a year are diagnosed with breast cancer and the packs we put together make their journey a bit easier.
"Last year the packs contained $250 worth of vouchers but the extra money raised has meant more money for each pack."We are hugely thankful to our supporters who have been fabulous and
we couldn't have done it without them," she said.Jack the Mountain Warrior was the dog to beat on the day and won The Gisborne Herald flat race before sprinting into the hurdles final.
Race commentator Neville Clark had the crowd in hysterics during the racing and the Melbourne Cup Mock-Up. Fashion in the Field was a hit withmany people dressed pink or in costume to match their furry chums.
The crowd was also treated to a wearable arts display that was judged by local designer Sheryl May.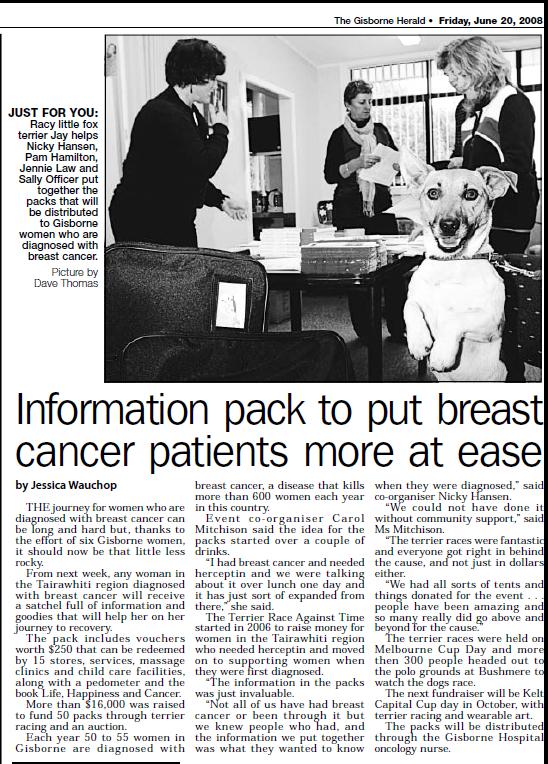 Media 2007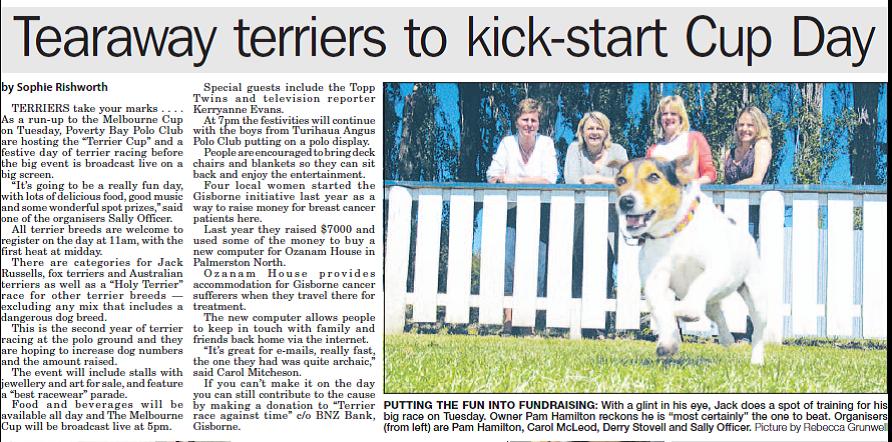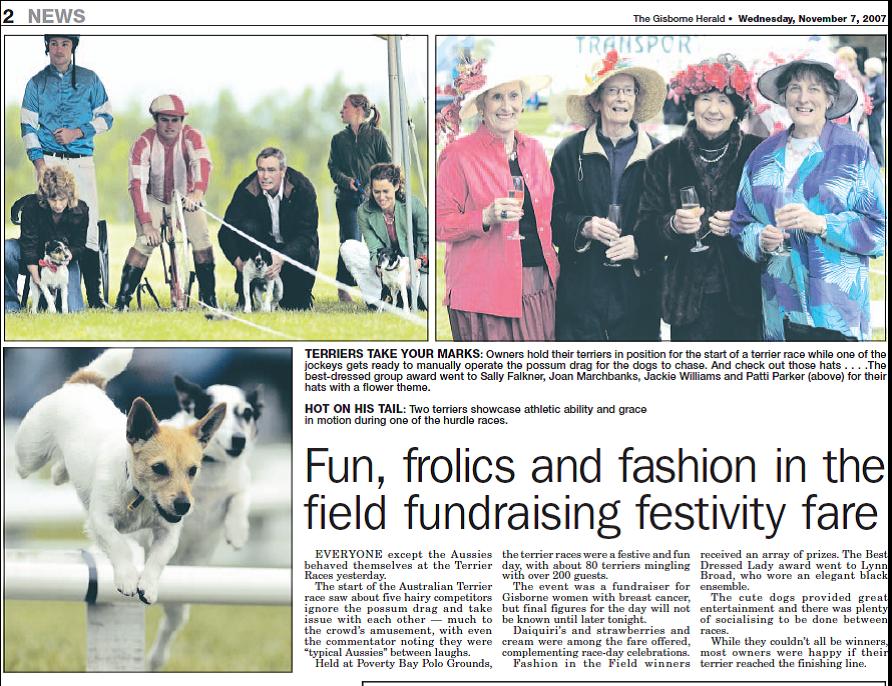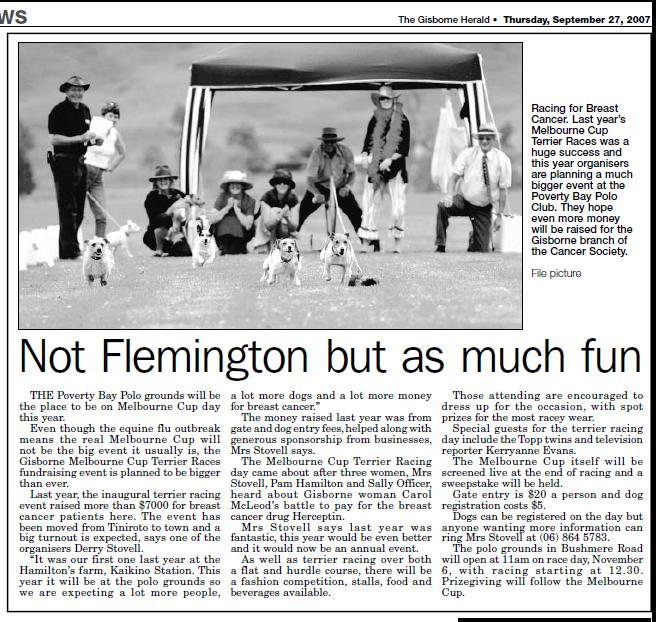 Media 2006